Lean IT in Action Contributor Spotlight
There are many valuable contributors to LITA and as we celebrate our one-year anniversary. We thought it would be an excellent idea to shine the spotlight on one of them in this edition. That person is Niels Loader.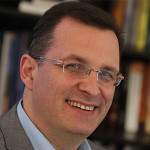 Niels is a Principal Consultant and Quint Wellington Redwood and the Content Team Leader for LITA. Niels has been working in the world of IT for the best part of 25 years. He has helped an enormous number of IT organizations of all sizes to improve their processes.
Starting as an ITSM process consultant, Niels soon moved to the area of IT Performance Management, in which he developed the concept of the IT Value Drivers, a standard set of the primary performance indicators for IT organizations. The premises on which IT Performance Management was built are similar to Lean, and so the step to developing the Lean IT proposition within Quint was a small one. Niels was part of the original design team of the first Lean IT foundation certification and has been carrying out Lean IT projects for the past six years. As the Leader of the Content Team, he has written the publications supporting the first three certifications: Lean IT Foundation, Lean IT Kaizen Lead and Lean IT Leadership.
He is a frequent speaker and is the author of many ITSM and Lean IT articles and papers and has been a major contributor and presenter for our LITA Executive Webinar Series.
Many Thanks, Niels!