Nadine Fruin
Title

Master Trainer Lean IT for ITpreneurs

Company

Fruin Consultancy & Training

Social media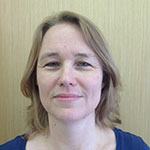 Nadine works as an independent, international consultant, trainer and coach with special attention to transition and organizational change projects, holding a Master degree in Organizational Change Management.
She has extensive international experience in Process Management, Service Management (ITIL and ISO20000) and Management of Change/Transition assessments, advisory services, implementations, training and coaching. She walks the talk.
She has a strong background in management of organizational change, process and service management and has profound knowledge and experience with transition and improvement projects. She has set up, led and coached diverse, multi-cultural teams in private and public organizations.
Her expertise is ITIL, ISO20000, Lean IT, COBIT 5, Governance of Information Management and Six Sigma. She is also ​ITpreneurs Lean IT Master Trainer​ for ​Lean IT Foundation, Kaizen, Leadership.